K-TRAZ F16L
Folding lock
The K-Traz F16L uses U-locking security along with the ease of storing a wind-up cable. Not available in Germany.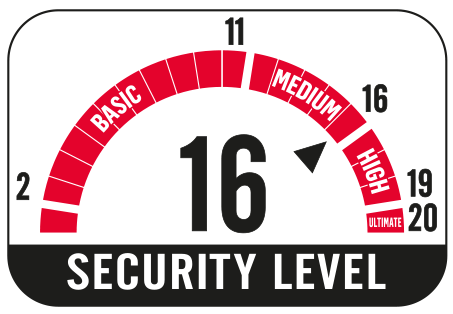 Good security
Security level 16 - For areas with a moderate risk of theft
Z safe
Powerful double locking system. High resistance against impacts and twists.
High resistance
Tensile and torsion strength. Antitheft and anti drilling.
Loss of key service
Duplication of keys in case of loss. Unique serial number.
Characteristics
Weight

1,35 kg

Material

Steel plates

Mounting

Screw mounting or strap mounting

Dimensions

80 x 186 x 45 mm

Type

Folding lock

Product reference

4917B

Security level

16

Key / code

Keys (3 included)

Section

22 x 7 mm
Our advices and commitments
Directions for use
Folding locks combine the security of a U-lock with the ease of storage of a coiled cable.

- All-day parking in an area with a low risk of theft (residential areas, low density...)
- Short-term parking in an area with a moderate risk of theft (medium-sized cities, university campus, etc.)
- Attached for a few hours to a bike rack on a car (bike rack itself fitted with an anti-theft device)

Can be used with other higher security locks.
Maintenance instructions
Your lock will be exposed to the weather, as moisture and dust as well as cold can affect its function. Care and cleaning of a lock will extend its life and keep it functioning properly.
Follow our maintenance recommendations on our "advice" page.
Engineered
Product designed by our R&D department in France
Quality commitment
The commitment to quality is one of our major concerns. If you encounter any difficulties with this product, please contact our quality department.