TUBELESS REPAIR KIT
Repair Kit for Tubeless Tyre
The Tubeless Repair Kit is a kit of tools essential for repairing a MTB tubeless tyre. The kit includes 6 plugs (3 x Ø 2mm + 3 x Ø 4mm) and the needle tool, needed to insert the plug in the tyre. The Tubeless Repair Kit gives cyclists the possibility to have a permanent repair solution for punctures to their bike whilst out riding.
Simple to use
No need to remove the tyre.
Durable
Permanently seals punctures up to 5mm for extended tyre life.
Storage
The box makes it easy to transport in a bag and preserves the plugs over time.
Versatile
Integrated tool for tightening the valve core and option to attach a spare chain link (link not included).
They approve
« I found the fix worked well: The hole stayed plugged as I rode the 30 miles of gravel home, with no leakage or issues at all. »
Road.cc
« In practice, the tool impresses with its compact size, very good handling and perfect sealing performance.(...) The minimalist and extremely economical set from Zefal. »
VojoMag
Characteristics
Weight

35g

Material

Steel and Polyamide

Dimensions

122 mm x 35 mm x 23 mm

User

XC, Enduro

Product reference

4302

Plugs

3 x Ø 2mm + 3 x Ø 4mm
Our advices and commitments
Directions for use
Place the tyre plug on the punctured tyre:
1. Turn your wheel to find the air escaping. Extract any object still in there causing the puncture.
2. Insert the plug through the eye of the needle.
3. Insert the needle tool into the hole using the file to clear it if needed.
4. Forcefully pull out the tool by turning your wrist.
5. Reinflate the tyre if required.
The plugs supplied in these kits are recommended for punctures between 1 and 5mm. For smaller punctures, we advise you use the Z Sealant range and for anything larger, to change the tyre. The user can chose to plug the tool in advance with a diameter they see fit in order to save time out on the road.
Maintenance instructions
Check the condition of the plug and its strength before each ride.
Engineered
Product designed by our R&D department in France.
Quality commitment
The commitment to quality is one of our major concerns. If you encounter any difficulties with this product, please contact our quality department.
Complementary Products
NEW
75 g
NEW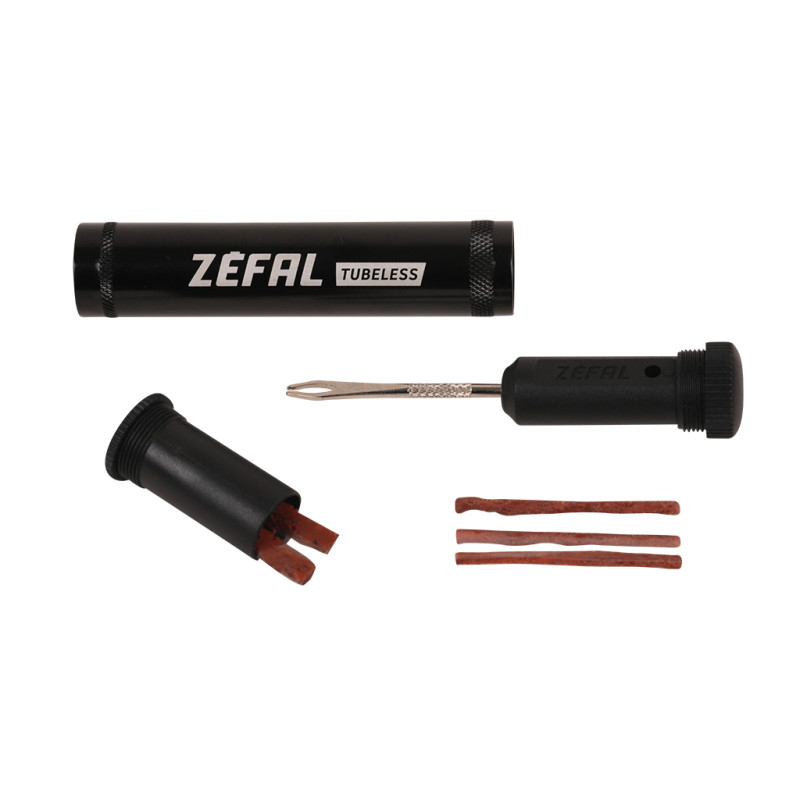 53 g
NEW